Shopify agency for small and medium-sized enterprises (SMEs)
Turn your Shopify online store into a revenue engine
As a specialized Shopify agency, we create and scale online stores in record time. With our proven methods in areas such as development or search engine optimization (SEO), we offer the fastest way to a more successful online store.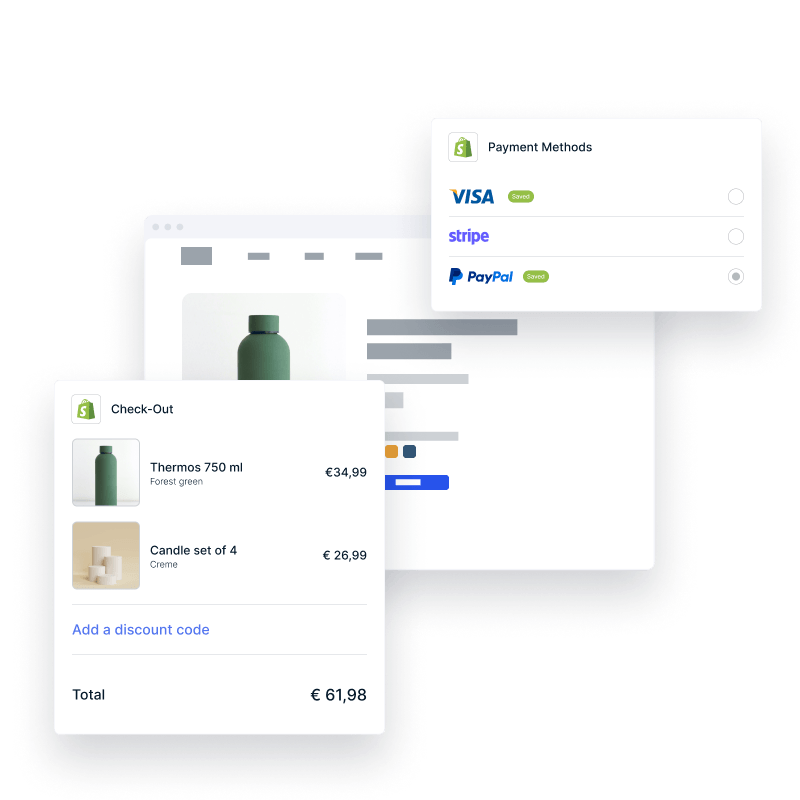 150+ companies trust us Do you know any of the following challenges?
From numerous Shopify projects over the past few years, we know exactly what problems you face.
You want to relaunch your online store using Shopify, the most widely used store system in the world. But you are still missing the right partner.
You have set up a Shopify online store yourself, without outside help, but the success in terms of sales and profit has been very limited so far.
Your Shopify online store does not rank for important keywords on Google & Co. The result is few visitors and low sales, which are achieved without advertising costs.
Your Shopify online store has long loading times, which, among other things, lead to a poorer ranking on Google. You don't know what options there are to increase the speed.
You feel that too few of your visitors are becoming customers and wonder what you can change in the user interface to increase the purchase rate.
Your Shopify online store is already generating solid sales, but is currently at a plateau of sorts. You're wondering how you can reach the next level.
Shopify Shop services at a glance
Our Shopify experts implement Shopify projects for businesses in record time, whether they are retailers or manufacturers.
Shopify SEO Audit
As part of a website quality audit, we thoroughly examine your Shopify online store and present you with the strengths and weaknesses. At the same time, you will receive recommendations for action and tips that you can implement in-house or with us as a Shopify agency partner.
Apps
We take care of the app research in the Shopify app marketplace, including testing in a development environment. This allows you to accurately estimate the resulting expenses in advance. If no existing app offers the desired functionality, as a Shopify agency we also program individual apps or add-on packages.
Technical SEO
Without a solid technical basis, a good ranking is hardly possible. Therefore, we pay special attention that a Shopify store does not issue any technical errors, such as broken pages, and has fast loading times. In addition, online stores that we manage are optimized for all devices (Mobile Responsive) and include SEO features, such as Structured Data.
Internationalization
As a Shopify agency, we create concepts for internationalization and implement them. For example, we use Shopify Markets to align the online store globally in terms of languages, currencies, conditions, customs duties, and country-specific content.
International SEO
As an international SEO agency, we perform search engine optimization for clients in various countries as standard. With Shopify Markets, we create and optimize global Shopify stores with country-specific SEO to improve the ranking of an online store in each target market and generate more revenue.
B2B Store
As a Shopify agency, we create Shopify stores for B2B products for online retailers and manufacturers and ensure their optimization. Our services include, for example, the adaptation of designs or an individual B2B checkout configuration.
Online Shop Migration
If you switch from a system like Magento, Shopware, etc. to Shopify, we take over the data export from the old store system as well as the import into the new Shopify online store. By preparing or consolidating the data and using the API interfaces, a smooth transition is achieved.
Point of Sale (POS)
If you want to use Shopify for retail stores in addition to the online store functionality, we as a Shopify agency will support you in setting up or further developing the Shopify iPad POS system including Bluetooth scanner, label printer and barcode app.
Managed Service
As part of a retainer, our experts take over the ongoing optimization of your Shopify online store. In addition to search engine optimization, we also adapt designs or implement technical requirements. As a long-term full-service partner, we offer all Shopify solutions from a single source.
Selected testimonials
FAQ
What is Shopify?

Shopify is the largest e-commerce platform in the world. In addition to Shopify Storefront (online stores), the platform also offers POS solutions for brick-and-mortar retail or various interfaces to social media platforms or online marketplaces. Shopify can be used without programming knowledge, as well as completely custom developed in the front- and backend. As a Shopify agency, we also support Shopify Plus stores with enterprise functionalities.

How much does Shopify cost?

As a software-as-a-service (SaaS), Shopify starts at $29 per month. Since the hosting of a Shopify store is implemented in the cloud, the store operator no longer needs to worry about issues such as security or scalability. As the shop grows, the subscription models can be upgraded, all the way to the Shopify Plus enterprise solution. When working with a Shopify agency, no subscription fees are incurred during the new development period of an online store.

What is a Shopify agency?

A Shopify agency specializes in the Shopify e-commerce platform and covers all the services needed to be successful on Shopify with a full-service approach. Starting with professional consulting, through the conception of new developments and relaunches, to development and performance marketing (SEO, SEA, social media, email marketing, etc.), a Shopify agency offers all solutions for its customers from a single source. Shopify agencies are usually part of Shopify Partners, the official program for Shopify service providers.

How much does a Shopify expert cost?

The price for a Shopify expert depends on the experience or expertise as well as the area in which they work. Developers or consultants, for example, demand a higher remuneration than an expert for the area of design or content. Therefore, before a possible project start, questions such as requirements or budget should be clarified between the company and the agency before any contracts are concluded.