Social Media Ads Agentur für kleine und mittlere Unternehmen (KMU)
Social media advertising that gets results.
As a social media ads agency, we place ads on social networks that directly lead to more inquiries for services or product sales.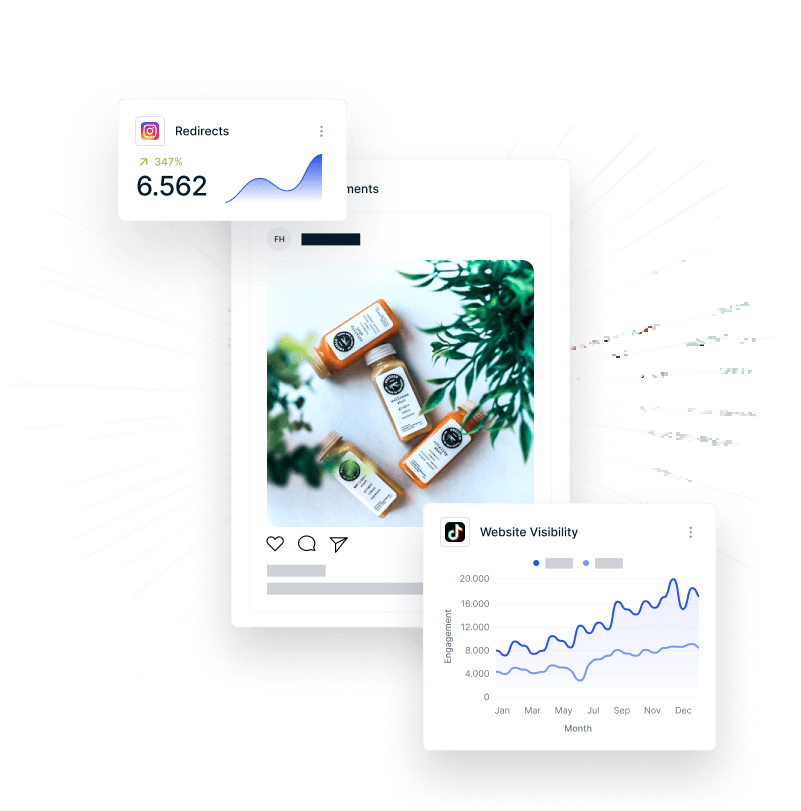 150+ companies trust us Are you currently facing any of the following challenges?
You've already noticed that social media advertising is very time-consuming, and you can't find enough resources to devote to it seriously.
Your company lacks the in-house expertise to run successful social media campaigns, but you know that social media advertising is extremely important these days.
You are simply overwhelmed with the numerous tracking options. This makes it impossible for you to run efficient social media advertising.
You already had one or more agencies in place to optimize your social media advertising, but the results were very poor.
You don't know exactly which social media platform is right for your business or are unsure where your target audience is.
You've never run social media ads before, but you don't want to burn money either. You're wondering what's the best way to get started.
Our services at a glance
Target groups
Defining your target audience is essential for any social media campaign, as it helps you choose the right platform, create relevant content and measure success. As a social media agency, we have a deep understanding of different audiences and can guide in identifying and reaching your target audience. Together, we define your buyer persona and the language they speak. Here, the data-rich campaign tools of Instagram, Facebook and Co. offer an ideal basis for playing out ads precisely to specific people.
Structure
If you start with social media ads, it is of great importance to set up the individual campaigns in the ad manager in a structured way to ensure an overview of all ads. As an agency, we take care of different funnel strategies, design and targeting concepts to make your performance campaigns visible to your followers and new customers. You benefit from our experience in e-commerce and performance marketing.
Targeting
We support you in addressing your target group in a campaign-specific manner within your social media ads. In doing so, we place the ads specifically along your customer's customer journey. Whether Facebook, Instagram, TikTok or LinkedIn - we understand your customers and make your campaigns successful together. We know how to handle different funnels on social media channels and target social media advertising to your buyer persona.
A-/B-Testing
When implementing your strategy with the use of paid social media campaigns, we rely on testing different design concepts to be able to determine which ad your customers respond to the most. From the beginning, we provide suggestions and input on which designs to consider for advertising your social media account. Thus, for inorganic social media marketing, it is essential to implement A/B testing to play the ideal ad content for your customers and followers and find your visual focus.
Optimization
It's significant to always optimize your social media presence. There are a number of ways to do this, but the most important include choosing the right platform, creating informative and engaging content, and maintaining a consistent voice. We differentiate here between organic content optimization and ad optimization. Both should be treated and managed with great attention.
Reporting
Our goal is always to achieve the highest possible success for you. To achieve this, an agency must be able to evaluate and understand data and prepare it in a comprehensible and understandable way. Together we discuss results and pass on recommendations to you. To do this, we use relevant reporting tools that give us a deep insight into your campaigns.
Selected testimonials
FAQ
What is a social media agency?

A social media agency is responsible for creating and managing a brand's social media presence. This includes developing strategies to increase follower growth and engagement, creating content, and running paid advertising campaigns. In addition, an agency often handles customer service requests and social media platform support. While the specific tasks of a social media agency vary depending on the size and needs of the client, their ultimate goal is to partner with businesses to help them successfully achieve their marketing goals by connecting with their customers through social media.

What is social media marketing?

Social media marketing is the use of online platforms such as Facebook, Instagram or LinkedIn to build relationships and interact with potential and current customers. The goal is to create content that is not only informative, but also engaging, so that viewers will want to share it with their own networks. To be effective, social media marketing must be strategic and well-planned. This means setting clear goals, such as increasing brand awareness or attracting customers, and then creating content that aligns with those goals. It's also important to consider the different ways each platform is used - Instagram, for example, is a very visual and inspirational platform, while LinkedIn is better for more in-depth articles and discussions.

What do you mean by social ads?

Social advertising is a form of online advertising that makes it possible to address specific target groups on different platforms. While traditional advertising usually relies on interrupting users with generic messages, businesses can use ads to deliver personalized content that is relevant to the interests and needs of their target audience. In many cases, social advertising offers the opportunity to engage with potential customers, building a connection that can lead to a sale or long-term relationship. As the use of social media continues to grow, paid outreach is likely to become an increasingly important marketing tool for different channels.

Why social media advertising?

There are a number of reasons why social media ads are becoming increasingly popular with businesses of all sizes. For one, social media platforms offer a highly targeted way to reach their audience. Facebook, for example, allows businesses to target people based on interests, demographics, and even purchase history. In addition, deploying a paid campaign on social media is relatively affordable and can be customized to fit any budget. Finally, social media platforms offer businesses the opportunity to build relationships with their customers and create a community around their brand. Used correctly, social media advertising can be an extremely effective tool for growing a business.