PPC Agency
PPC for Google, Amazon & Co.
As an PPC agency, we develop strategies for your search engine advertising on Google, Amazon & Co., take care of the implementation and ongoing optimization.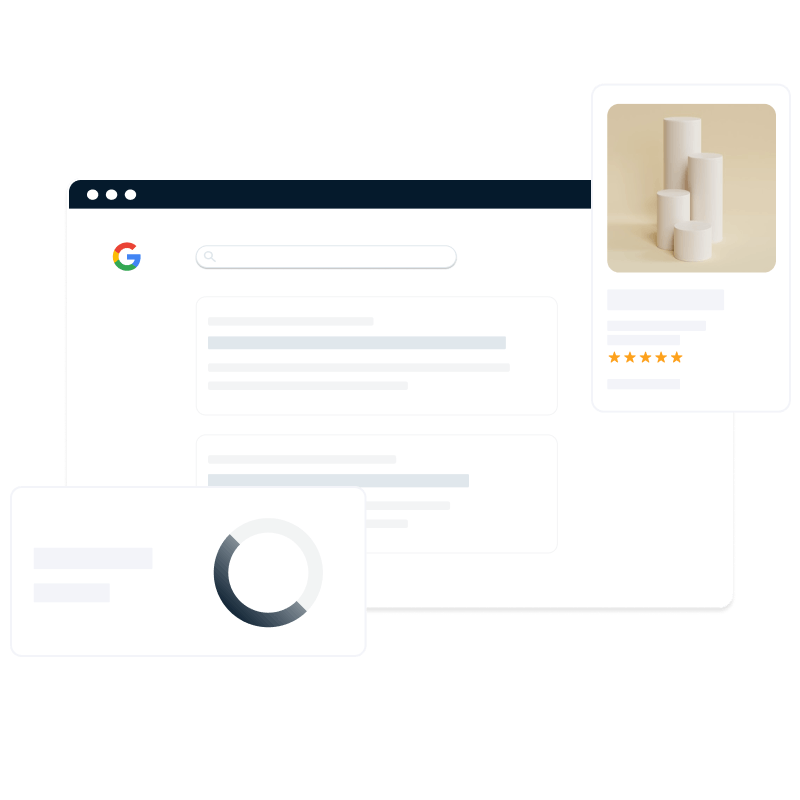 Our approach
As a results-oriented agency, we specialize in performance marketing. We develop and manage high-performance advertising campaigns for our clients that contribute significantly to business success. In doing so, we combine creativity with data-driven optimization and continuously measure the success of our work.
About Search Engine Advertising (SEA)
Search engine advertising is a component of search engine marketing and it is impossible to imagine online marketing without it.
Wa is SEA?
Search engine advertising is a form of online marketing that allows companies to advertise their products and services in search engines of various categories, such as Google, Amazon or Bing. When someone searches for a particular term in a search engine, the ads of companies that have purchased search engine advertising are displayed alongside the organic results. Search engine advertising is therefore an effective way to reach potential customers. Because search engine advertising is targeted at specific keywords, companies can be sure that their ads will be seen by people who are actually interested in what they have to offer, and there is little so-called wastage in terms of advertising spend.
Why is search engine advertising important?
Just as traditional advertising media, such as television and print, have evolved over the years, so has online advertising. One of the most effective and efficient ways to reach potential customers is through search engine advertising. Advertising on Google, Amazon, etc. works by placing ads on pages where they are most likely to be seen by people actively searching for products or services or relevant topics. As a result, higher sales and profits can be realized quickly. In addition, online advertising can be used to track how many people click on an ad and visit a website or online store. This provides valuable first-hand data that can be used, for example, to better target keywords or content optimization in SEO. Given the high visibility and ability to generate leads, it's no wonder that search engine advertising has become one of the most important tools in the modern marketer's toolbox.
PPC Services at a Glance
As online marketing experts, we specialize in pay-per-click campaigns on Google, Amazon & Co. - from the initial web analysis to the finished, optimized advertising campaign.

Keyword analyses
Based on target group and competition information, we as a PPC agency research the best keywords, which are the basis for content marketing as well as for PPC marketing. The analysis of keywords is the basis for successful PPC ads.

PPC Audit
If you are already running search engine advertising, we will first conduct an audit to check the quality of your current advertising campaigns on Google, Amazon, etc. and identify optimization potential.

PPC Consulting
As a PPC agency, we offer professional consulting in the field of search engine advertising. In an initial consultation, we look at your business model or products, the target group approach, the targeting options and the performance of existing search engine advertising.

PPC Strategy
Based on the available data from Google, Amazon, etc., we develop an SEA strategy that fits seamlessly into your online marketing strategy and, if desired, ensure its professional implementation.

Local PPC
As a PPC agency, we implement local search engine advertising, e.g. for restaurants, retail, tax consultants, etc.. Here we also resort to social media advertising and support content marketing to further increase the performance of a campaign.

B2B PPC
We implement pay-per-click advertising in various search engines for customers with a B2B business model. In a B2B project, we pay particular attention to the individual customer journey and tailor the campaigns precisely to this.

International PPC
As a PPC agency, we also place international advertising for our client via a wide variety of channels, such as Google, Amazon, Bing or social media. With our know-how we bring you to the top of the search results.

Ecommerce PPC
With our e-commerce expertise, we support online store companies in increasing sales and profits. We control the campaigns via channels such as Google Ads, Shopping Ads, Display Network, Bing, Amazon or Social Media.

Launch PPC
We develop campaigns for new products, services, websites or online stores or take care of the optimization of the ads in order to realize top performance from the moment of launch without a long ramp-up curve.

Managed Service
As part of our long-term support (retainer) as an SEA agency, we use our expertise to ensure sustainable optimization of search engine campaigns and ads on Google, Bing, Amazon, etc. As an online marketing partner, we also use our know-how to optimize content so that campaigns can perform optimally.

A/B Testing
We perform extensive A/B testing of ads that give your company a decisive advantage over your competitors. Based on the data obtained, we perform content optimization of the ads so that your ads are displayed right at the front on page 1.

Reporting
We provide you with comprehensive reporting as standard, which includes the most important KPIs of your search engine advertising. This means you always have a precise overview of the performance of your advertising and can take appropriate marketing measures.
PPC for Various Platforms
As a full-service online marketing agency, we can advertise for all popular platforms, in addition to Shopify, WordPress, Amazon and eBay. Contact us. An expert will contact you directly.
Why Fischer & Habel
As interdisciplinary experts in online marketing, we implement high-performance campaigns on Google, Amazon & Co. and ensure greater success for our customers.
Learn more
Expertise: More than 15 years of practical experience in online marketing

Result-oriented: Focus on results with an agile way of working

Owner-managed: Neither agency network nor investor participation

Face-to-face: Project Manager as operational and strategic partner
Top rated by our clients

5.0 on Google

4.7 on Trustpilot
FAQ
Can't find the answer you're looking for? Contact our .
More success with search engine advertising?