PPC agency for small and medium-sized enterprises (SMEs)
With Google advertising (Ads) quickly to more sales
Achieve more inquiries for your service or product sales within the shortest possible time with us as a search engine advertising specialist (SEA agency) - without letting profitability become a secondary issue.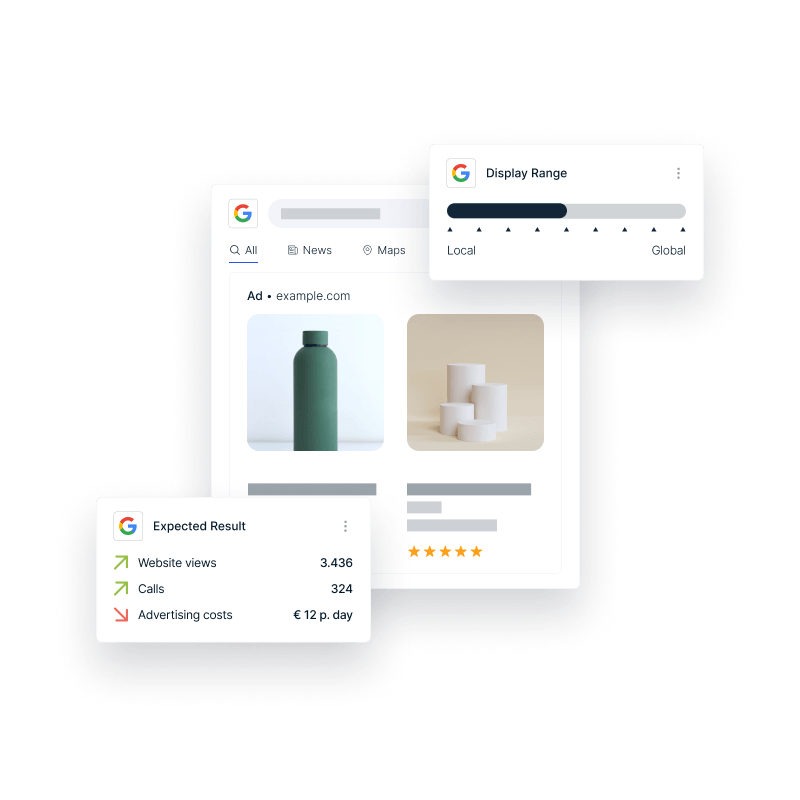 75+ companies trust in us Are you currently facing the following challenges?
Although Google advertising can dramatically increase sales in a very short time, most companies fail to find the right levers to run Google Ads efficiently and thus profitably.
Your search engine advertising is inefficient and thus causes significantly too high costs. You do not know where you can optimize.
You or your employees do not currently have the knowledge about search engine advertising and the time to familiarize yourself with the subject.
The competitive pressure in your industry is increasing. The click costs are getting higher and your profit is shrinking bit by bit.
You feel overwhelmed by all the new advertising options on Google. You are missing the clear path that suits your company.
You lack the skills for a correct technical setup in terms of tracking. As a result, you have enormous wastage.
You are unhappy with your current agency, which only manages your campaigns. There is no proactive optimization for results.
You have not yet run any Google Ads and are looking for the right partner to take your first steps with Google Ads.
Due to the current market situation, your sales are shrinking and you are looking for a way to immediately increase sales.
Your competitors are ahead of you on Google and are generally more present online. You don't know how to change that in the short term.
3 steps to powerful search engine advertising (SEA)
With our field-proven 3-step method, we have developed a system that leads to direct sales growth while maintaining the profit margin.
1. SEA foundation
In the first step, we lay the foundation for successful search engine advertising (SEA) with media planning. This includes an in-depth market analysis, a clear positioning, a clean technical setup and a precise target definition.
Advertising message:
Together with you, we define the target group, your competitive advantages and sales arguments incl. value proposition.
Goals & KPI's:
To measure the performance of Google Ads, we define the key metrics with you.
Basic technical framework:
We implement DSGVO-compliant tracking (conversion + remarketing) for precise measurement of success.
Landing page optimization:
We support you in making your website or online store more saleable through advertising copy and design.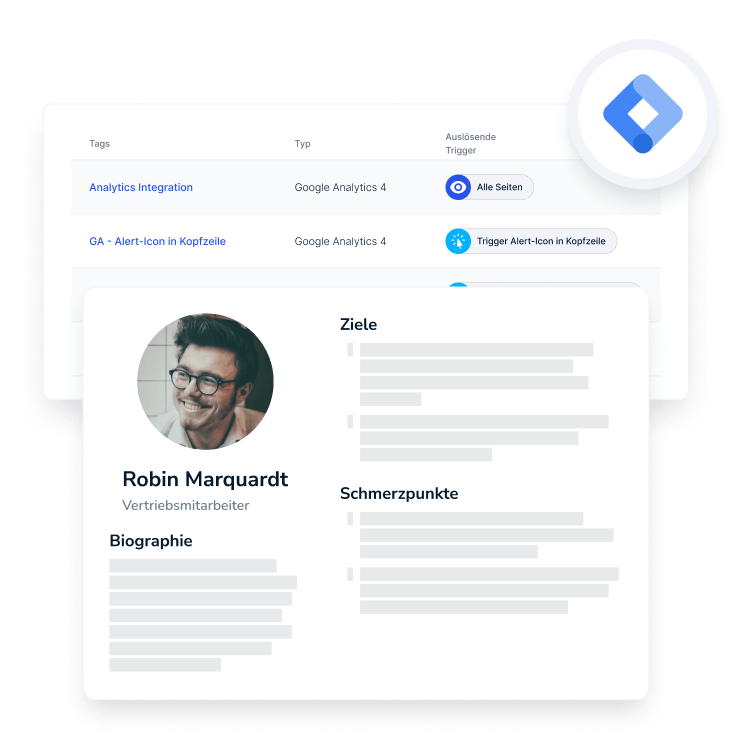 2. Strong selling advertising content
We create powerful ads for your search engine advertising (SEA) based on the images and videos you provide. Here, the developed sales argument and advertising messages are clearly communicated.
Creatives:
We prepare your images and videos for use in search engine advertising to achieve maximum efficiency.
Advertising copy:
We integrate effective advertising texts with clear calls-to-action into the advertising material of your ads.
Campaign types:
We create advertising content for an established mix of Google Search, Shopping, Display, YouTube and Performance Max ads.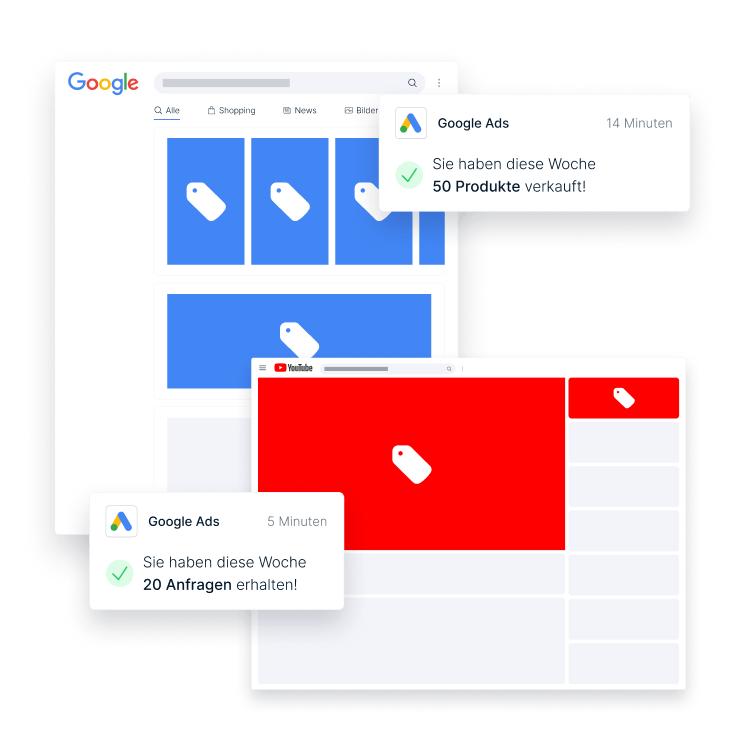 3. Precise campaign management
In media buying, we set up campaigns and ad groups for Google Ads (Search, Shopping, Display, YouTube, Performance Max) according to a proven, standardized procedure. At the same time, budgets are continuously managed, click costs and purchase rates are monitored, and A/B tests are conducted. Based on the collected data, continuous optimization is performed to increase advertising performance and scale efficiently.
Creation according to best practices:
We perform the setup of manual and automatic campaigns according to a fixed structure.
Data based optimization:
In order to reduce wastage and thus increase the efficiency of the campaigns, we pull the right levers over the entire duration of the campaigns.
Meaningful reporting:
In monthly reports, we present the performance of your social media advertising in an easy-to-understand way.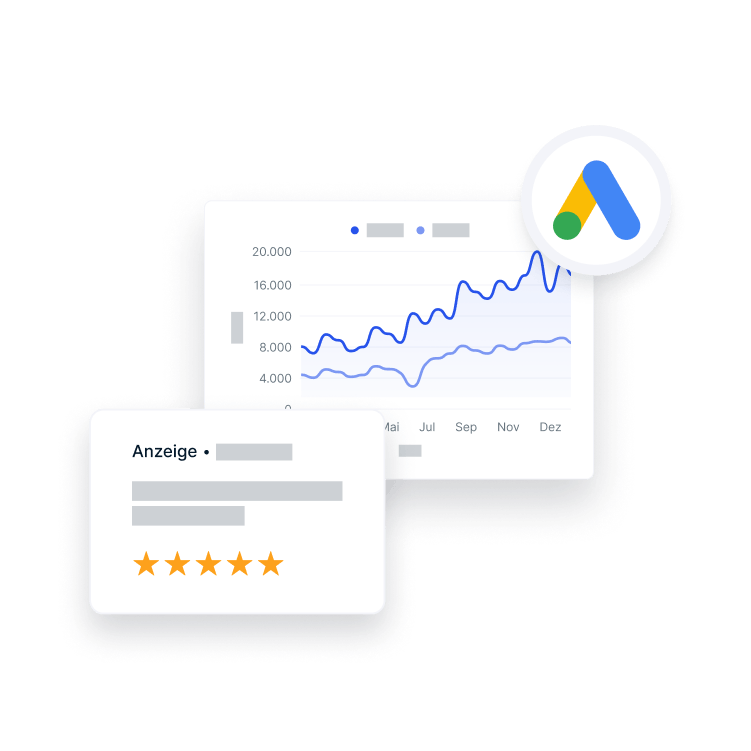 Selected testimonials
FAQ
What is a PPC agency?

A PPC agency is an online marketing company that specializes in managing PPC advertising. PPC is a form of online advertising where advertisers pay fees for clicks. PPC agencies usually take care of clients' search engine advertising, from researching relevant keywords to writing ad copy and managing bids. In addition to managing advertising campaigns, PPC agencies provide reporting and analytics to help clients track and improve their performance.

What does an PPC agency cost?

An PPC agency usually charges its customers for its services on the basis of an hourly rate. Daily rates between EUR 650 and EUR 2,100 are common in the market. Within the framework of a so-called retainer, customers can work with a partner on a long-term basis for a flat monthly fee. The flat rate creates predictability on both sides and is therefore popular with many customers.

What is PPC Marketing?

PPC marketing is a form of online marketing where advertisers pay a fee for each click on one of their ads. The goal of PPC marketing is to drive visitors to a website or landing page and generate leads or sales. To be successful, ads must be targeted and relevant to the target audience. Advertisers must also bid on keywords that potential customers are likely to search for. PPC marketing can be an effective way to reach a large number of people with minimal effort, making it a popular choice for many businesses. However, it is important to keep in mind that PPC campaigns can be expensive and require continuous management and optimization to be successful.

How to find a good PPC agency?

A good PPC agency has extensive experience managing campaigns for businesses across a wide range of industries. It is also aware of the latest changes to Google Ads and other major platforms, and can provide expert advice on how to make the most of your budget. In addition to professional implementation, a good PPC agency will be able to track and measure your results so you can see exactly how your campaigns are performing. Since the market is large, it is advisable to shortlist a few service providers after an initial research and have non-binding, personal discussions. Based on the criteria mentioned, you can then quickly find the right partner.