PPC agency for small and medium-sized enterprises (SMEs)
Achieving measurable results with search engine advertising
As an SEA agency, we place powerful ads on Google & Co. that directly generate more sales and profits.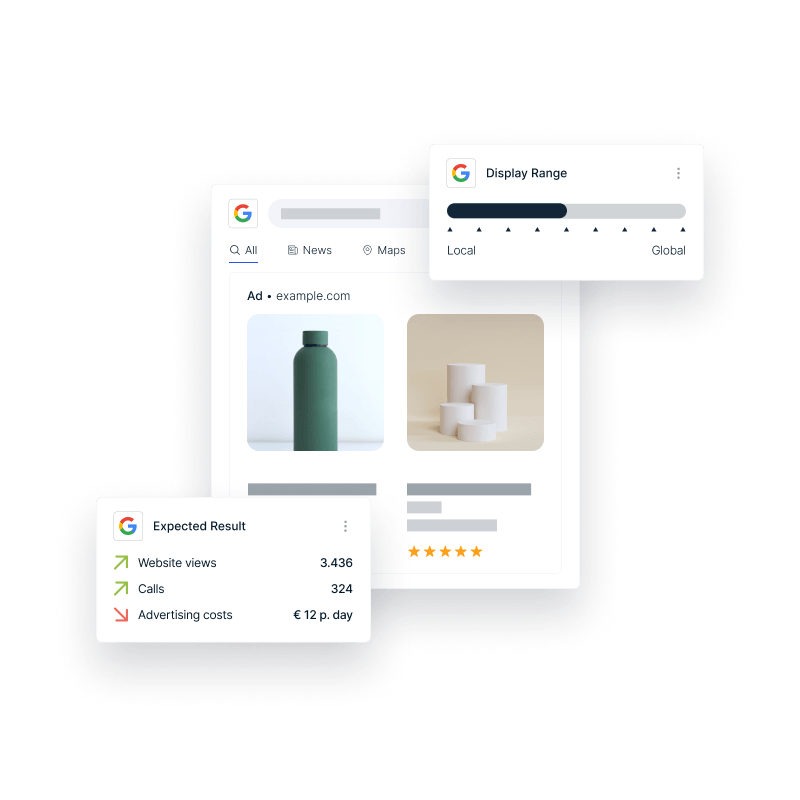 150+ companies trust us Are you currently facing any of these challenges?
Your search engine advertising is inefficient and thus causes significantly too high costs. You do not know where you can optimize.
You or your employees currently lack the knowledge about search engine advertising and the time to familiarize yourself with the subject.
There is a lot of competitive pressure in your industry. As a result, click costs are getting higher and your profit is shrinking bit by bit.
You feel overwhelmed by all the new advertising platforms and ad formats. You are missing the clear path that suits your company.
You lack the skills for proper technical setup in terms of tracking, remarketing, etc. As a result, you have enormous wastage.
You are dissatisfied with your current agency, which basically only manages your advertising campaigns. There is no proactive optimization for results.
Our services at a glance
SEA Audit
If you are already running search engine advertising, we will first conduct an audit to check the quality of your current advertising campaigns on Google, Amazon, etc. and identify optimization potential.
SEA Consulting
As a PPC agency, we offer professional consulting in the field of search engine advertising. In an initial consultation, we look at your business model or products, the target group approach, targeting options and the performance of existing search engine advertising.
SEA Strategy
Based on the available data from Google, Amazon, etc., we develop an SEA strategy that fits seamlessly into your online marketing strategy and, if desired, ensure its professional implementation.
Local SEA
As a PPC agency, we implement local search engine advertising, e.g. for restaurants, retail, tax consultants, etc.. Here we also resort to social media advertising and support content marketing to further increase the performance of a campaign.
B2B SEA
We implement pay-per-click advertising in various search engines for customers with a B2B business model. In a B2B project, we pay particular attention to the individual customer journey and tailor the campaigns precisely to this.
International SEA
As a PPC agency, we also place international advertising for our clients via various channels, such as Google, Amazon, Bing or social media. With our know-how we bring you to the top of the search results.
Ecommerce SEA
With our e-commerce expertise, we support online store companies in increasing sales and profits. We control the campaigns via channels such as Google Ads, Shopping Ads, Display Network, Bing, Amazon or Social Media.
Launch SEA
We develop campaigns for new products, services, websites or online stores or take care of the optimization of the ads in order to realize top performance from the moment of launch without a long ramp-up curve.
SEA Managed Service
As part of our long-term support (retainer) as an SEA agency, we use our expertise to ensure sustainable optimization of search engine campaigns and ads on Google, Bing, Amazon, etc. As an online marketing partner, we also use our know-how to optimize content so that campaigns can perform optimally.
Selected testimonials
FAQ
What is an SEA agency?

An SEA agency is an online marketing agency that specializes in using paid advertising to bring a website or online store to the top of search engine results and thus generate measurable success. The focus is on the Google Ads platform. However, search engine marketing also includes formats such as Amazon Advertising, Bing Ads or Social Media Ads.

What does an SEA agency cost?

An SEA agency usually charges its customers for its services on the basis of an hourly rate. Daily rates between EUR 650 and EUR 2,100 are common in the market. Within the framework of a so-called retainer, customers can work with a partner on a long-term basis for a flat monthly fee. The flat rate creates predictability on both sides and is therefore popular with many customers.

What is PPC Marketing?

PPC marketing is a form of online marketing where advertisers pay a fee for each click on one of their ads. The goal of PPC marketing is to drive visitors to a website or landing page and generate leads or sales. To be successful, ads must be targeted and relevant to the target audience. Advertisers must also bid on keywords that potential customers are likely to search for. PPC marketing can be an effective way to reach a large number of people with minimal effort, making it a popular choice for many businesses. However, it is important to keep in mind that PPC campaigns can be expensive and require continuous management and optimization to be successful.

How to find a good PPC agency?

A good PPC agency has extensive experience managing campaigns for businesses across a wide range of industries. It is also aware of the latest changes to Google Ads and other major platforms, and can provide expert advice on how to make the most of your budget. In addition to professional implementation, a good PPC agency will be able to track and measure your results so you can see exactly how your campaigns are performing. Since the market is large, it is advisable to shortlist a few service providers after an initial research and have non-binding, personal discussions. Based on the criteria mentioned, you can then quickly find the right partner.

What is a PPC agency?

A PPC agency is an online marketing company that specializes in managing PPC advertising. PPC is a form of online advertising where advertisers pay fees for clicks. PPC agencies usually take care of clients' search engine advertising, from researching relevant keywords to writing ad copy and managing bids. In addition to managing advertising campaigns, PPC agencies provide reporting and analytics to help clients track and improve their performance.

What is a SEA company?

An SEA company, analogous to an SEA agency or PPC agency, is an online marketing company that specializes in the management of search engine advertising. The task of an SEA company is to place the customer's offer as prominently as possible in the search via a campaign in order to directly ensure more sales and profit.