Web Development Agency
Web Development for Websites and Online Stores
Benefit from our expertise as a web development agency in consulting, conception, planning and realization of web projects.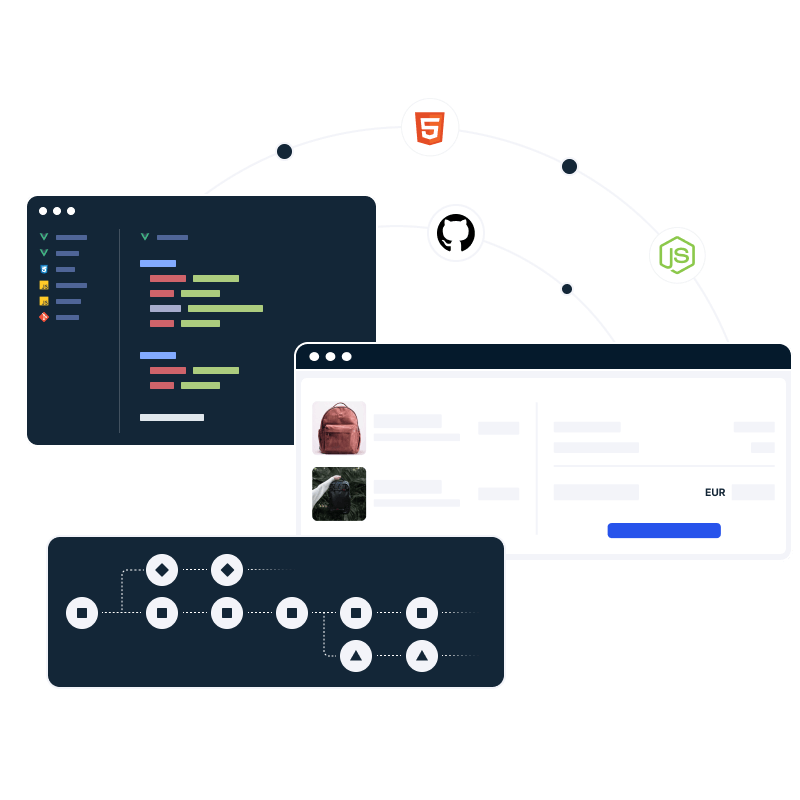 Our Approach
As a web development agency, we combine web design with excellent technical implementation and progressive online marketing. We specialize in corporate website and e-commerce projects and use this expertise for the success of our clients. We believe that a high quality platform is a prerequisite for performance marketing to work.
About Web Development
The rapid development and enhancement of (e-commerce) websites while maintaining high product quality is increasingly becoming a critical success factor for companies in times of digitalization.
What is web development?
Web development is the process of creating and maintaining (e-commerce) websites and similar platforms, such as intranets or SaaS applications. It covers a wide range of areas, including web design, web content development, web application development and server administration. In addition to the operational implementation of projects, the tasks of a web developer also include consulting, the development of concepts (e.g. on information architecture, site maps, system architecture, etc.) or long-term support or maintenance. Therefore, they usually have a solid background in programming, usability and web design. They are responsible for ensuring that a site is accessible, easy to use and that it is technically optimized for search engines. In the agency environment, web developers work as service providers with clients to develop customized solutions for their specific needs. As the number of web development projects continues to grow, so does the need for qualified web developers.
How does web development work?
The web development process involves a variety of tasks, including designing, coding, and deploying applications. To create a site, developers must first understand the needs of its users. These are determined in an initial analysis. This is followed by the UX/UI design. Responsive design takes into account all devices. At the same time, the structure of the website must be designed and the code written. In addition, various tools, such as a content management system (CMS) for managing the content, are linked together. Once the website is ready, it is deployed on a web server (production mode) so that it is available online. Thanks to modern tools, the process is constantly being optimized and automated so that product quality can be kept high in ever shorter development loops. The continuous further development is mostly carried out according to agile methods in iteration loops, in which continuous optimizations are made.
Web Development Services at a Glance
As a web development agency, our services extend the resources of your team with development capacities and ensure the technical implementation of websites, online stores, web apps or individual solutions.

Consulting
In an initial consultation directly following your inquiry, we receive information from you about your project or your ideas. Within the scope of our consulting, we develop the appropriate solution together with you and ensure a fast, qualitative implementation.

Concept
Based on your requirements, we find the right solution for your project from the many technical possibilities and create a concept of the system architecture including the technologies to be used.

UX Design
Our UX designers accompany you from the idea to the finished user experience, on the basis of which the creation of a user interface takes place. The UI design is an essential part of the user experience, along with areas such as sitemap or loading times.

UI Design
We develop the UI design basically as responsive design, so that your (e-commerce) website works for the perfect customer experience on all devices (desktop, tablet, mobile). We work with modern frontend frameworks to speed up the design process.

Frontend Development
Our frontend teams implement your Responsive Design with HMTL, CSS and JavaScript. We use frameworks such as React or Vue for the development of a modern user interface or a web app. For optimal usability, accessibility according to W3C standards is also taken into account.

Backend Development
The backend is where the data is and where the functionality is created. As a web development agency, we use PHP, Liquid or Node.js for the development of content management systems (CMS), e-commerce platforms or individual solutions.

Web Apps
As a web development agency, we develop modern web apps using the latest technologies. This allows us to create powerful web services that provide an optimal user experience with fast loading times.

Interfaces
Our experts integrate your applications into the existing system landscape, regardless of whether it already exists or is to be newly set up. For data exchange, we use API endpoints so that the systems can communicate directly with each other and processes are automated.

Migration
As an agency for web development, we take over the transfer of data, e.g. for products, into new tools, such as Product Information Management (PIM) or Content Management Systems (CMS), following a detailed consultation.

Managed Service
As a web development agency, we can take care of the ongoing maintenance including hosting, updates and technical support after the completion of your project, so you don't have to worry about the unconditional operation of your web presence.

Individual Solutions
According to individual needs and requirements, we develop customized solutions for our customers based on the latest technologies. Starting with the creation of design systems to the programming of a complex web app, we make sophisticated projects a reality.

Project Management
Thanks to the experience of our project managers from various web projects, we implement a wide variety of customer projects in record time, from small websites to larger web applications. As an agency, we work with agile planning to achieve your goal even with changing requirements.
Top rated by our clients

5.0 on Google

4.7 on Trustpilot
Why Fischer & Habel
Our team consists of specialists in UX design, web design, web development, online marketing, e-commerce and project management who work together for the success of our clients.
Learn more
Expertise: More than 15 years of practical experience with web applications

Result-oriented: Focus on results with an agile way of working

Owner-managed: Neither agency network nor investor participation

Face-to-face: Project Manager as operational and strategic partner
FAQ
Can't find the answer you're looking for? Contact our .
Fast, high-quality development for websites or ecommerce stores?