Social Media Agency
Social Media Marketing
As a social media agency, we help you understand and successfully leverage the overwhelming world of social media.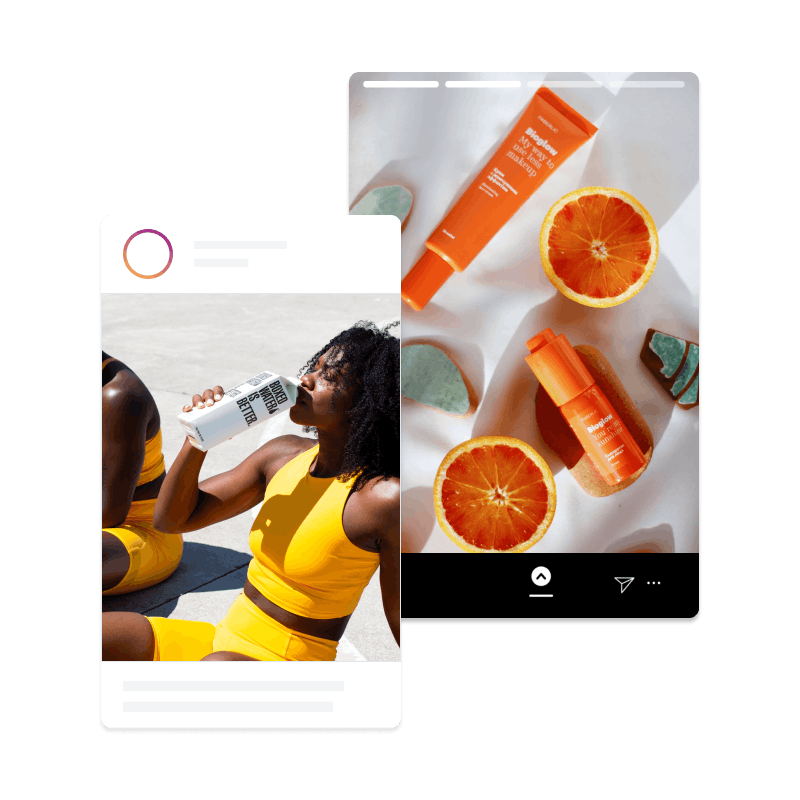 Our Approach
Whether paid or unpaid reach - as a social media agency, we take a holistic view of your social media marketing. Starting with analyses and consulting, we accompany you all the way through to the final advertisement on Facebook, Instagram, etc. Our social media experts regularly monitor all measures in order to be able to react agilely to changes. As a social media marketing agency, we are your partner for more success in the ever-changing world of social media.
About Social Media
Social media marketing has experienced tremendous growth in recent years. Close communication with the customer offers companies new opportunities that they did not have access to before.
What is social media marketing?
Social media marketing is a form of online marketing that uses social networks as a marketing tool. The goal of this is to create content and advertisements that appeal to users in order to increase brand awareness and expand the potential customer base. Social media can be used to promote a variety of products and services and is an effective way to connect with people and build a customer relationship. Many businesses use social media marketing in conjunction with other marketing strategies such as search engine optimization or pay-per-click advertising. Used correctly, social media marketing can be an incredibly powerful tool for businesses of all sizes.
Why is social media marketing important?
The way people search for and buy products has changed permanently in recent years. As a company, it has become essential to operate where the target group is active. In addition to the company's own websites and online store, social networks are increasingly becoming part of today's classic digital presence. Social media gives you the opportunity to contact customers directly and to scale your own brand visibility. This allows companies to build relationships with their customers and create a loyal customer base. In addition, social media provides an effective way to connect with influencers who can help you promote your business to a wider audience.
Why Social Media Marketing
The world of social media marketing offers with platforms such as Instagram, Facebook, YouTube or LinkedIn platforms on which your target group spends an average of 2.5 hours per day. It thrives on exchange, interaction and the willingness of customers to use the respective channels. Today, it is therefore an elementary part of the online marketing strategy not to leave these social media channels unplayed and to use the possible proximity to the target group that exists there to strengthen the brand and achieve company goals more quickly.
active social media users worldwide

4,6 bn.

Time spent per day on social networks

247 min.

USD ad spend in social media

109 mio.

USD global Meta platform revenue

118 bn.
Social Media Consulting
Our social media consulting is not only aimed at companies that are starting from scratch in the world of Instagram, Facebook and Co., but also at those who want to analyze their current presence, reflect on it and realign it with success-bringing impulses. As a social media agency, we understand your target group, know your competitors and work with you to develop the strategy that will set you apart from others and further strengthen your brand awareness and sales. In doing so, you benefit from our experience in a wide range of industries.

Kick-off
Our support always starts with a kick-off meeting. To make your social media presence successful, it is important for us to understand your products, services, target groups, industry and development potential. How do we do that? We listen to you. Your information forms the foundation for successfully navigating you to our common goal.

Analysis
Starting with the choice of platforms to the competitive analysis, we accompany you in all strategic decisions. Within our social media support, we analyze your target group and your competition in detail, so that every marketing strategy and concept is based on meaningful data. Our credo is - successful online marketing, always goes hand in hand with analytical understanding.

Target Groups
Defining your target audience is essential for any social media campaign, as it helps you choose the right platform, create relevant content and measure success. As a social media agency, we have a deep understanding of different audiences and can guide in identifying and reaching your target audience. Together, we define your buyer persona and the language they speak. Here, the data-rich campaign tools of Instagram, Facebook and Co. offer an ideal basis for playing out ads precisely to specific people.

Concept
The in-depth analysis is followed by a detailed concept to illustrate how we work together to meet the defined goals. In doing so, we always consider the uniqueness of the individual social media platforms, as each platform speaks its own language and is used your own target groups. Here, it is our task to charmingly link your goals with the complex social media landscape.

Strategy
With our expertise, we can advise you on your existing social media strategy or help you develop a new one. It is the roadmap for achieving your goals and ensures that you focus on the essential subtasks. You should not deviate from a defined social media strategy prematurely, but you should maintain an agile working method and, in case of significant change, intervene. Here, you benefit from our experience in a wide range of industries and can rely on sound recommendations.

Workshops
In order to support you successfully in the area of social media marketing, we pass on our experience to you. To do this, we use workshops in which we share our expertise on topics such as community management, social media accounts, social media content, high-performance advertisements and more. We address your specific questions and take the time to explain the topic of "social media" in a comprehensible and understandable way.
Social Media Content
As a social media content agency, we take your content to the next level. We guide you to continuously create content that is data-driven, creative and unique. We combine emotional storytelling with relevant data to help your content reach its full potential. As a social media agency, we create content for specific personas along their customer journey. In the process, we also take on the production of high-quality image and video material if desired.

Research
The various social media channels bring one piece of content after another on a daily basis. Whether Facebook, TikTok, Pinterest or LinkedIn - keeping track of all the industry-specific content can be very time-consuming. Our social media experts take this work off your hands, freeing you up to focus on other tasks and projects. This way, you can be inspired by existing content and use it for your content strategy.

Creation
Whether posts, stories or reels, our creative minds create quality content that stays in your head. We empower you to fill your social media profile with creative content. From creatives to user-generated content, we help you achieve your social media strategy with the help of great content.

Editorial Plans
Without an editorial plan, it can be difficult to maintain a consistent voice and message across all of your social media channels. The editorial plan can help you track your results in a more goal-oriented way and measure your success over time. It should take into account your overall goals as well as your specific goals for each social media channel.

Storytelling
The goal of storytelling in marketing is to appeal to consumers on an emotional level, increasing the likelihood that they will remember the story and be more likely to buy the product. While traditional advertising relies on facts and statistics, storytelling is designed to stimulate the viewer's imagination and create a connection between the viewer and the brand.
User Generated Content
User Generated Content wird nicht von Unternehmen oder Influencern erstellt, sondern von Nutzern Ihrer Produkte. Dabei kann UGC in den unterschiedlichsten Formaten auftreten, z. B. Bewertungen, Bildmaterial oder Videomaterial. UGC erlangt derzeit einen starken Fokus und ist immer kreativer und vielseitiger geworden. Die Inhalte schaffen so ein Vertrauen und erhöhen die Interaktion und Conversion.

Trends
One challenging characteristic of social media is its fast pace. There is a huge mass of content, accounts, platforms and, above all, trends. As quickly as these trends become present, so quickly does the general interest in them fade away. In order not to miss the right trends, you can benefit from our social media managers who are on the move every day on the platforms you want to play on.

Gen Z
This new generation, known as Generation Z, is the first generation to grow up with social media. As a result, they are more familiar with using the platforms than any other generation. However, they are also more skeptical of traditional marketing techniques. To reach Generation Z, you need to understand them and be able to create content that appeals to them. In this way, companies can tap into a market that is full of potential.

Community Management
Social media community management is the exchange with other users, who are usually followers or customers of a brand. Community management involves being active in the audience, contacting customers and moderating content. In this regard, we as an agency offer community management as one of our services. Social media are increasingly being used for exchanges with customers and at the same time as a platform for customer support.

Influencer Marketing
Influencer marketing has become a popular marketing strategy in recent years. This type of social media marketing involves working with individuals on social media who have a large following on channels like Facebook, Instagram, and TikTok. Influencers usually promote products or services to their followers and can be an effective way to reach your customers.
Social Media Ads
Social ads are becoming more and more important. As the organic reach within social media becomes more and more limited, social media advertising manages to give attention to your posts, your brand and your products. With the help of the right creatives and copies, we can give your social media performance a boost and target your customers. As a social media agency, we always keep your customers in the foreground and strengthen the online presence of your brand.
Structure
If you start with social media ads, it is of great importance to set up the individual campaigns in the ad manager in a structured way to ensure an overview of all ads. As an agency, we take care of different funnel strategies, design and targeting concepts to make your performance campaigns visible to your followers and new customers. You benefit from our experience in e-commerce and performance marketing.

Targeting
We support you in addressing your target group in a campaign-specific manner within your social media ads. In doing so, we place the ads specifically along your customer's customer journey. Whether Facebook, Instagram, TikTok or LinkedIn - we understand your customers and make your campaigns successful together. We know how to handle different funnels on social media channels and target social media advertising to your buyer persona.

A/B Testing
When implementing your strategy with the use of paid social media campaigns, we focus on testing different design concepts, especially at the beginning, in order to be able to determine which ad your customers react to most strongly. Right from the start, we provide suggestions and impulses as to which designs should be considered for advertising your social media account. For inorganic social media marketing, it is thus essential to implement A/B testing to play the ideal advertising content for your customers and followers and to find your visual focus.

Optimization
It's significant to always optimize your social media presence. There are a number of ways to do this, but the most important include choosing the right platform, creating informative and engaging content, and maintaining a consistent voice. We differentiate here between organic content optimization and ad optimization. Both should be treated and managed with great attention.

Reporting
Our goal, as is always to achieve the highest possible success for you. To achieve this, an agency must be able to evaluate and understand data and prepare it in a comprehensible and understandable way. Together we discuss results and pass on recommendations to you. To do this, we use relevant reporting tools that give us a deep insight into your campaigns.
Social Media Marketing for Various Platforms
Whether Facebook, Instagram, YouTube or LinkedIn - for your success in social media, we design social media strategies tailored to your target groups and platforms. Can't find your platform? Contact us.
Why Fischer & Habel
As social media experts and performance marketing specialists, we set successful impulses and bring your digital presence to the next level on various social media channels.
Learn more
Expertise: More than 15 years of practical experience in online marketing

Result-oriented: Focus on results with agile way of working

Owner-managed: Neither agency network nor investor participation

Face-to-face: Project Manager as operational and strategic partner
Top rated by our clients

5.0 on Google

4.7 on Trustpilot
FAQ
Can't find the answer you're looking for? Contact our .
Successful social media marketing?