Professional ecommerce website
Turn your online store into a sales machine
Let us create a modern, powerful online store that generates significantly more revenue without requiring capacity or technical expertise in-house.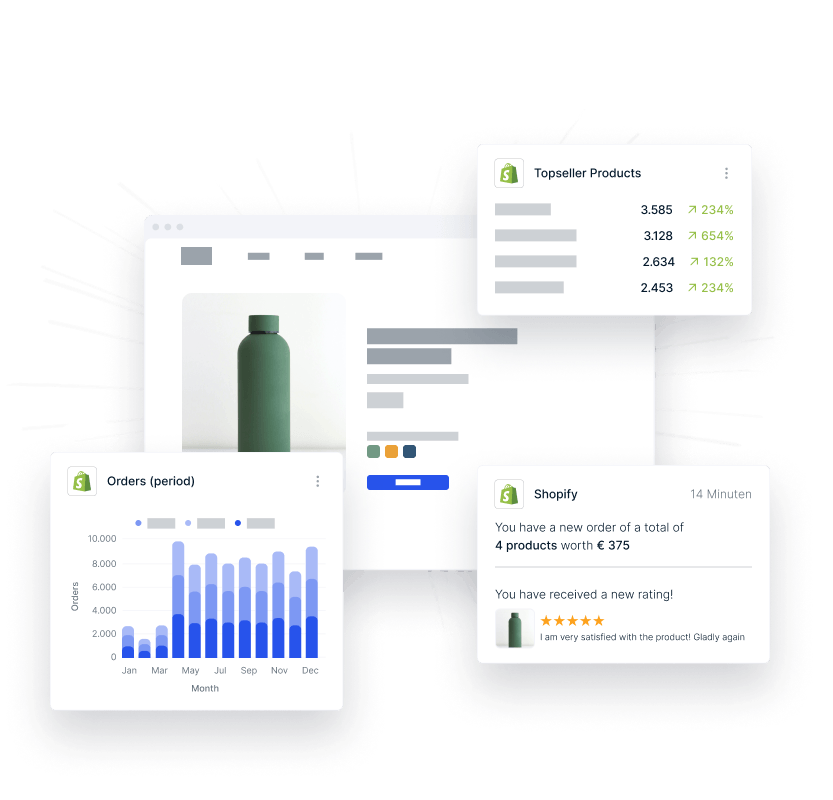 150+ companies trust in us Are you currently facing any of the following challenges?
In 95% of our client conversations, we found the same problems over and over again.
They currently use website building kits, such as Wix, Webflow, Jimdo, Woocommerce, or similar, but increasingly realize that scaling is not possible with these amateur systems.
You don't know exactly what to do to sustainably increase sales in your online shop. You wonder what the next steps could be.
You lack the technical know-how and no one on your team can program, so you simply can't make progress on certain topics.
You have already tried several store systems and finally want a system that meets your needs and with which your business can grow.
Your online store ranks poorly on Google & Co., but you do not know exactly what the reason is and what you can do to increase visibility again.
Previous agencies or freelancers have hardly achieved positive results or even caused deterioration, although everything sounded very good in the acquisition.
Your online store already achieves 6- to 7-figure annual sales, but the growth is just stagnating and you are wondering how you can reach the next level.
You are planning a relaunch for your online store, but you lack the capacity or competence in your own team or the right partner to implement the project.
Your e-commerce business is to be internationalized, but you lack the exact plan with regard to your online store, especially concerning the technical realization.
4 elementary areas for a successful ecommerce website
With our field-tested method, we create online stores that are convincing in the following fundamental 4 areas and thus become real sales machines.
Strong selling, modern design
We stand for high-quality web design that is not only beautiful, but also makes it easier for your customers to navigate the online store and guides them intuitively through the sales process via shopping cart and checkout. At the same time, a professional web design ensures a high level of satisfaction among visitors and a unique brand experience.
Intuitive user interface:
Visitors can easily find their way around and quickly get to the information they need or the products they are looking for.
Mobile responsive:
The majority of visitors access your online store with a smartphone. That's why our online stores are not only mobile optimized, but are developed from a mobile perspective.
Designed for sale:
We do without gimmicks, such as animations, and instead focus on clear design according to sales-psychological principles.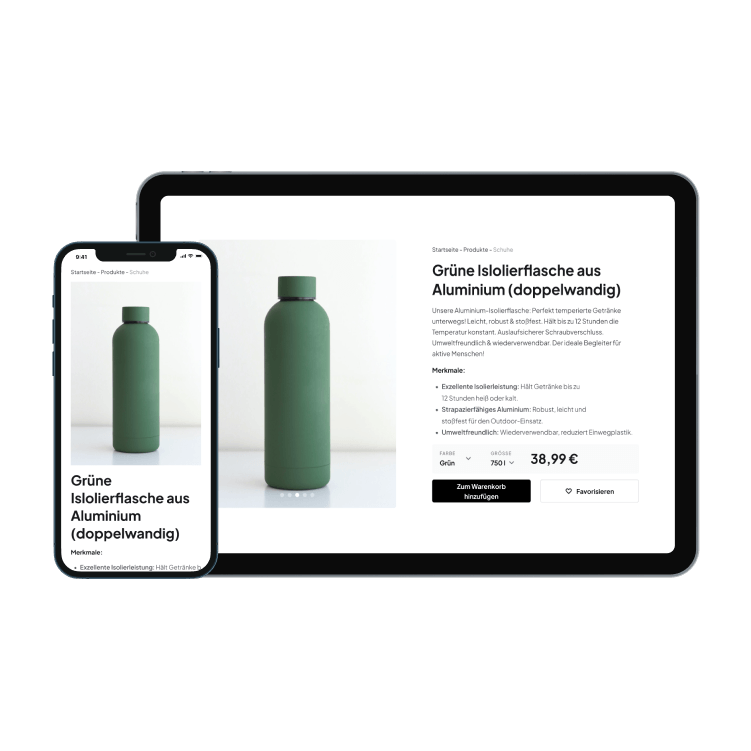 Simple content management
With Shopify, the world's largest e-commerce platform, we use the most modern content management system (CMS) available for online stores. This allows you or your employees to independently maintain content, such as text, images or videos, in real time and without programming knowledge. In addition, it's easy to create or delete individual pages, customize navigation menus, and manage multiple languages.
Easy to operate:
The Shopify CMS is state-of-the-art and can be used intuitively without prior training or extensive instruction.
Scalable content:
Any number of pages, categories, products and languages can be maintained, so that your online store is easily adaptable and can grow with your company.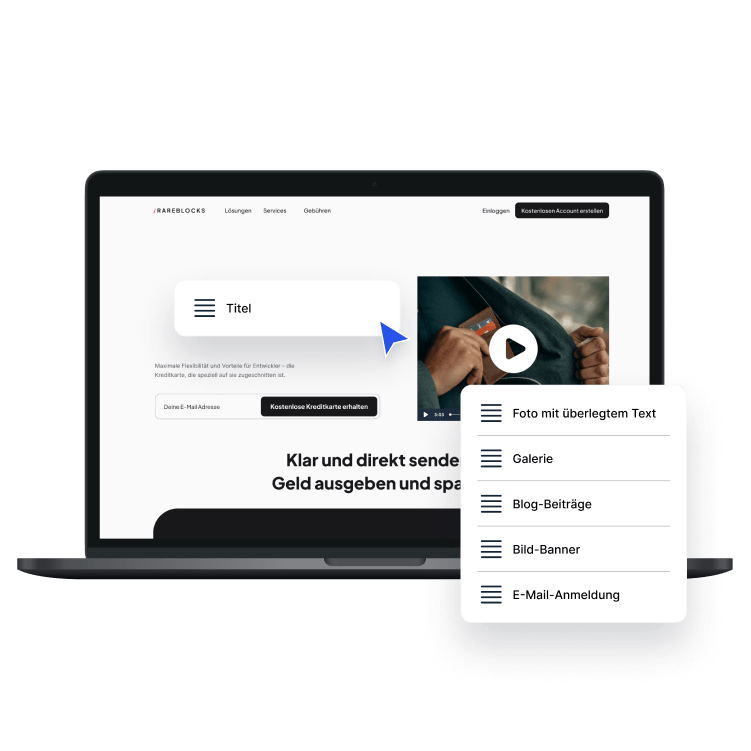 Top rankings on Google & Co.
The best online store can only sell if it can be found. That's why our online stores are developed so that they can appear on page 1 for relevant search terms, nationally and internationally. In combination with an ongoing search engine optimization (SEO), this achieves top rankings on Google & Co. The result is more sales without incurring advertising costs.
First-class technical basis:
Advanced search results through meta data, structured data as well as sitemap and robots.txt
Content optimization:
Texts in the optimal structure for Google and using selected search terms as well as compression of images incl. alt descriptions
Internationalization with Shopify Markets:
Targeted ranking for different markets or countries through integration of signals for correct assignment of translations and URLs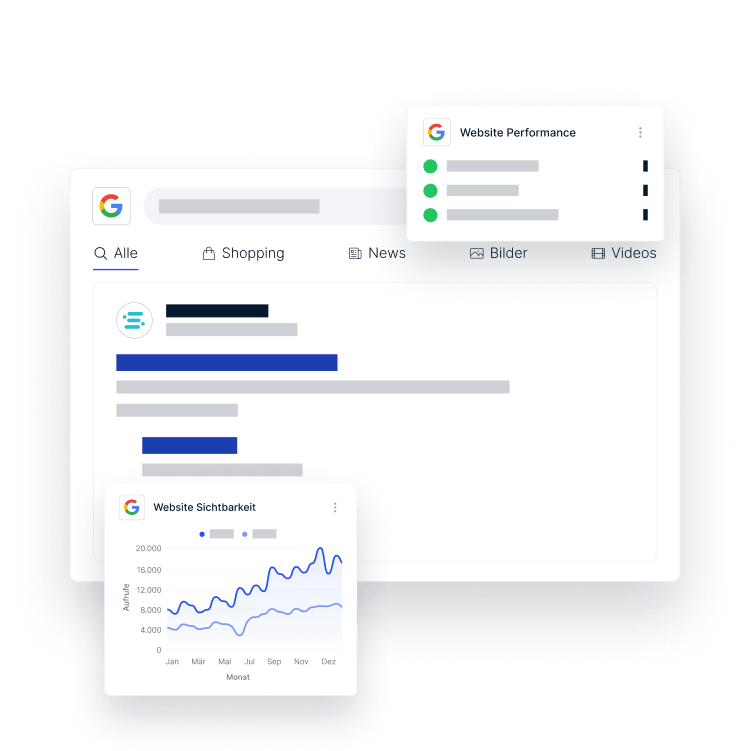 Data protection compliance
Compliance with the GDPR is not only crucial for gaining the trust of your visitors and avoiding legal risks, but also provides an enormous competitive advantage. With customer data that you collect legally compliant in your own online store, you can both optimize your offer and precisely target online advertising. From the implementation of a cookie consent management tool to secure data transfers, we take care of the entire implementation so that you can use your online store worry-free.
Provide legal text:
Software-supported creation and integration of imprint, privacy policy, revocation policy, GTC & Co.
Data intelligence:
Compliant implementation of third-party cookies, such as Google Analytics or Meta Pixel (Facebook + Instagram).
Remarketing:
Legally secure use of collected customer data for your online advertising, e.g. by addressing people who have already been to your website.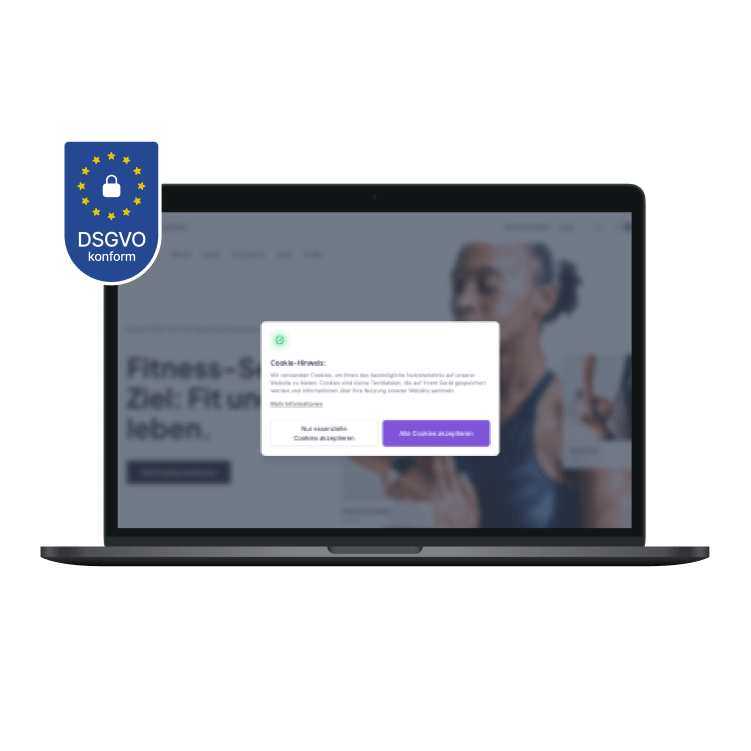 Selected testimonials
Get an online store created that is a real sales machine.