Professional corporate website
Turn your website into a growth engine
Let us create a future-proof, lightning-fast, state-of-the-art website that generates new customers continuously and predictably, without you or your employees having to worry about the (technical) implementation.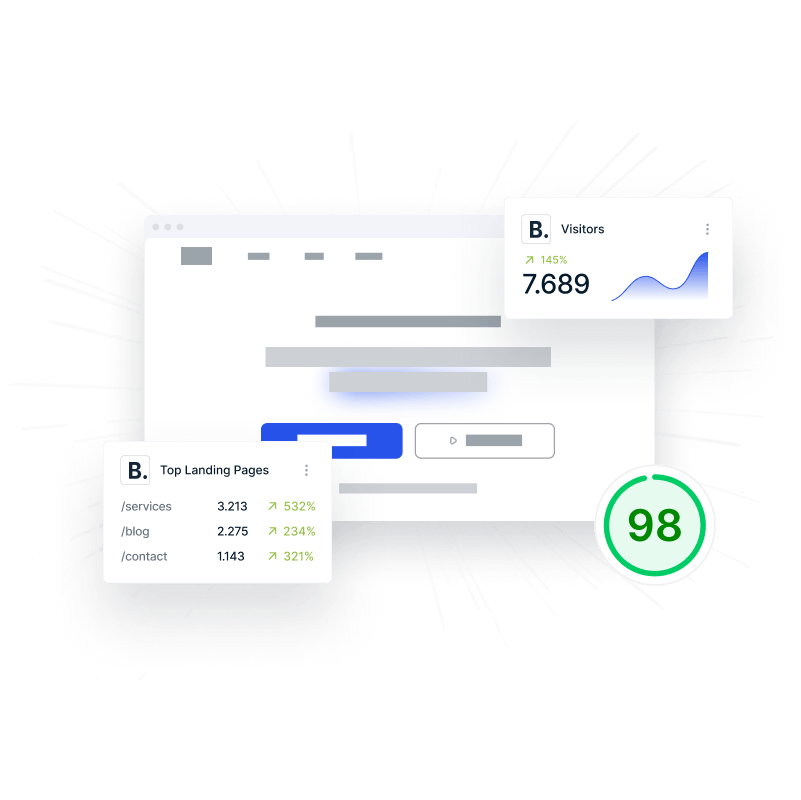 75+ companies trust in us Do any of the following scenarios apply to you?
In hundreds of conversations with clients about websites, we've seen the same challenges over and over again.
Your website is found on Google & Co. only poorly, your competitors, however, are right in front.
You find it difficult to maintain the content of your website or you are even completely dependent on external service providers.
Your website has been hacked or you know people in your environment to whom this has already happened.
Your website is not or barely optimized for mobile devices (smartphones or tablets).
They lack competence when it comes to data protection compliant requirements and integration of cookies.
Your website has long loading times and does not look up-to-date overall.
You are planning a website relaunch, but do not yet know with which system or which partner you want to implement the project.
You are starting a business or launching a new brand and need an online presence for it in the short term.
You are unhappy with your current agency and are looking for a new reliable partner for your new website.
Our concept
For us, websites are the heart of online marketing. Powerful websites act as sales agents, generating inquiries from potential customers non-stop, 24 hours a day, 7 days a week.
Strong selling, modern design
We stand for high-quality web design that is not only beautiful, but also makes it easier for potential customers to navigate the website, guides them intuitively through the sales process and thus makes it much easier to generate inquiries. At the same time, a professional web design ensures a high level of satisfaction among visitors and a unique brand experience.
Intuitive user interface:
Visitors can easily find their way around and quickly get the information they need.
Mobile responsive:
The majority of visitors access your website with a smartphone. That's why our websites are not only mobile optimized, but are developed from a mobile perspective.
Designed for sale:
We do without gimmicks, such as animations, and instead focus on clear design according to sales-psychological principles.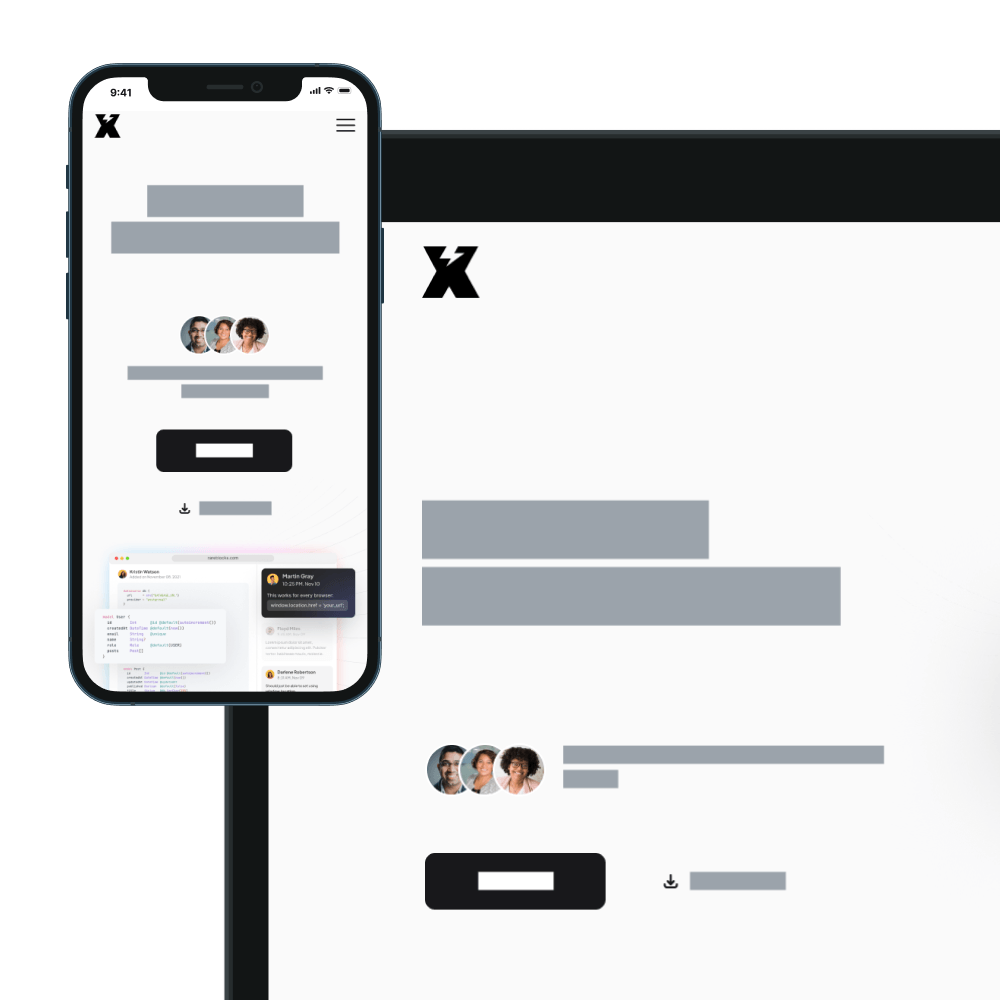 Lightning fast loading times
Loading speed is one of the most important ranking factors on Google and at the same time essential for a first-class user experience (usability). Websites created by us are uncompromisingly designed for performance and are among the fastest in the world.
Better ranking:
Top performance values in the Core Web Vitals introduced by Google, resulting in better placement in search results.
Excellent user experience:
Differentiation from the competition with a particularly high user experience through fluid navigation and ultra-fast content loading
Lower bounce rate:
Prevention of lost sales, as every millisecond longer loading time statistically ensures that visitors or potential customers leave your website.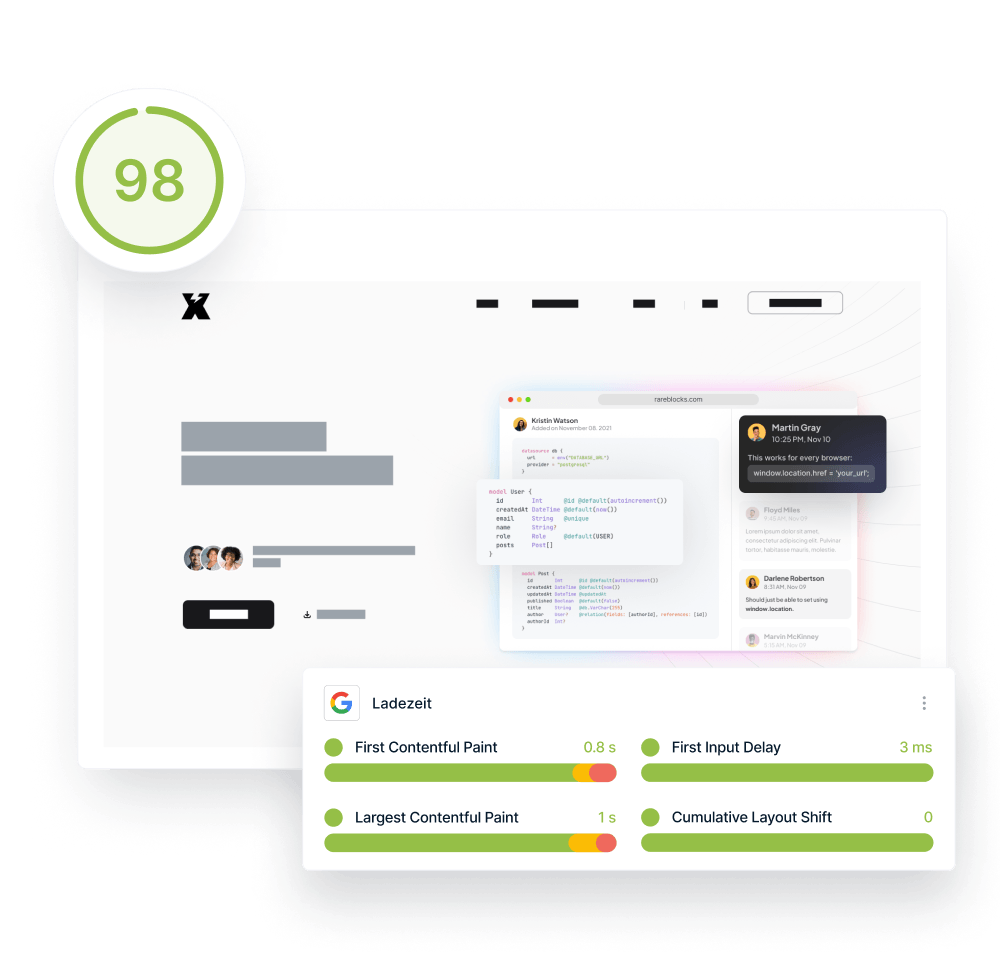 Simple content management
We use state-of-the-art, future-proof content management systems (CMS). This allows you or your employees to independently maintain content, such as texts, images or videos, in real time and without programming knowledge. In addition, it is easily possible to create or delete individual pages, customize navigation menus and manage multiple languages.
Easy to operate:
Our CMS can be operated as intuitively as you know it from an iPhone without prior training or extensive instruction.
Scalable content:
Unlike traditional content management systems, any number of pages and languages can be easily maintained, allowing your website to grow at a rapid pace with your business.
Brand consistency:
Unlike a website builder, the design is tightly integrated into the programming code and detached from the content, so employees can't make changes that don't conform to your brand's design guidelines.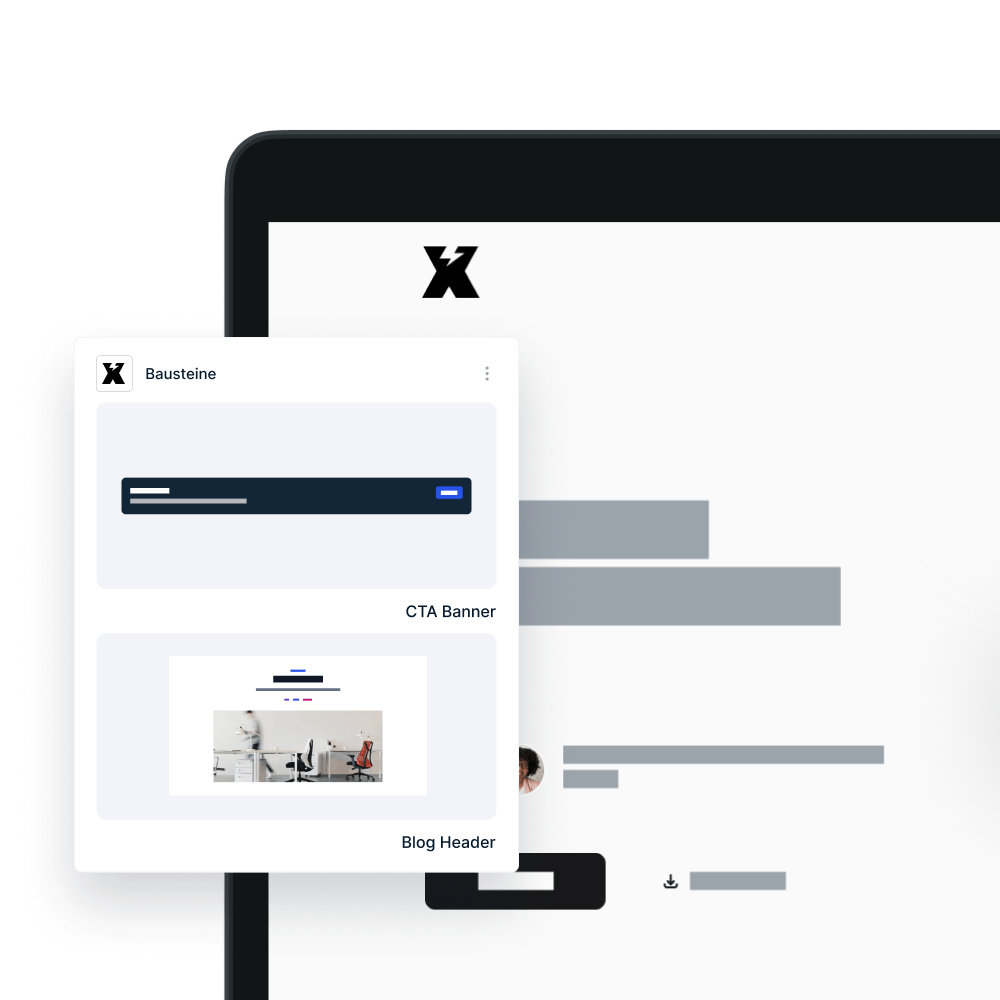 Top rankings on Google & Co.
The best website can't generate inquiries if it can't be found. Therefore, our websites are developed so that they can appear on page 1 for relevant search terms, nationally and internationally. In combination with ongoing search engine optimization (SEO), this achieves top rankings on Google & Co. The result is more website visitors without incurring advertising costs.
First-class technical basis:
Advanced search results through meta data, structured data as well as sitemap and robots.txt
Content optimization:
Texts in the optimal structure for Google and using selected search terms as well as compression of images incl. alt descriptions
Ready for internationalization:
Targeted ranking for different markets or countries through integration of signals for correct assignment of translations and URLs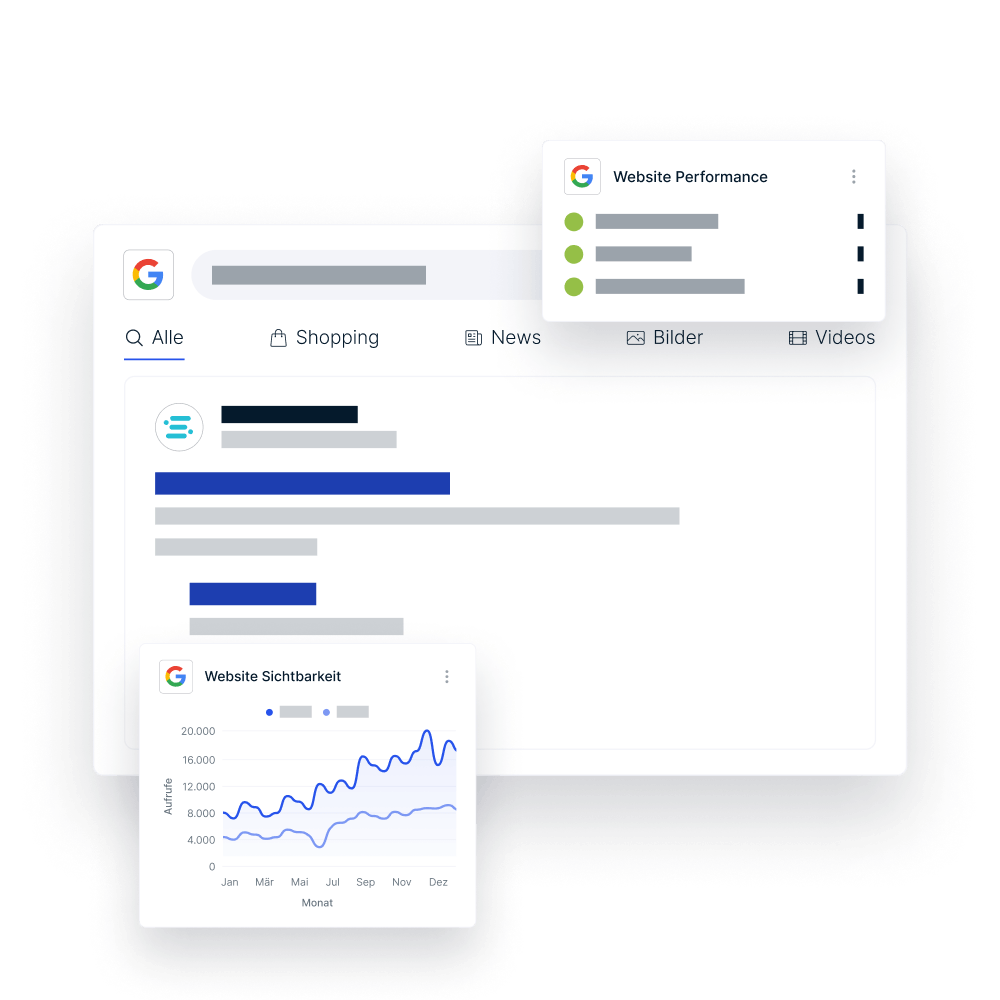 Data protection compliance
Compliance with the GDPR is not only crucial for gaining the trust of your website visitors and avoiding legal risks, but also provides an enormous competitive advantage. With customer data collected in a legally compliant manner on your own website, you can both optimize your offer and precisely target online advertising. From the implementation of a cookie consent management tool to secure data transfers, we take care of the entire implementation so that you can use your website worry-free.
Provide legal text:
Software-supported creation and integration of imprint, privacy policy & co.
Lift treasure trove of data:
Compliant implementation of third-party cookies, such as Google Analytics or Meta Pixel (Facebook + Instagram).
Secure competitive advantage:
Legally compliant use of collected customer data for your online advertising, e.g. by addressing people who have already been to your website (remarketing).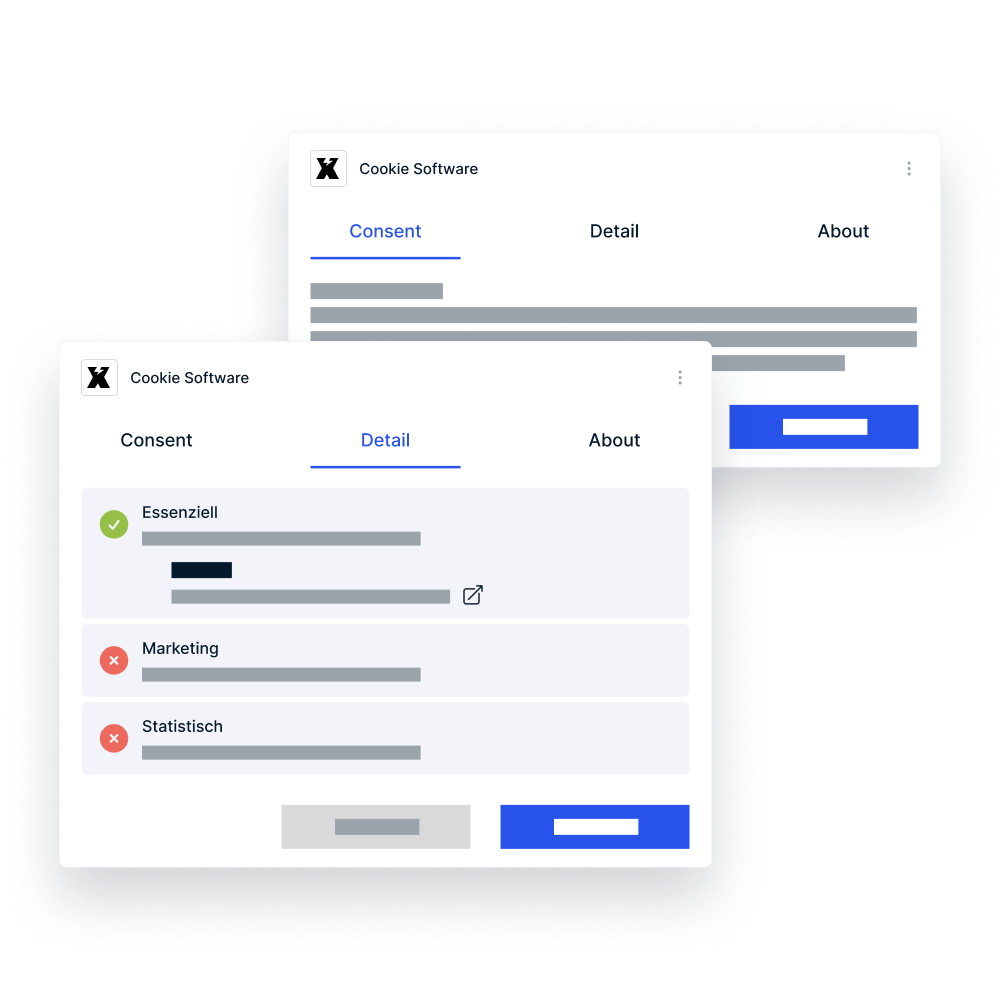 Safe and maintenance-free
Classic systems, such as WordPress, require countless extensions (plugins), some of which have to be paid for, which cause high running costs due to maintenance and possibly licenses. At the same time, these systems have the disadvantage that the user interface (frontend) and the administration area (backend) are rigidly connected to each other, which on the one hand further increases the maintenance effort and on the other hand results in serious security risks.
Low running costs:
Our websites don't require critical updates where functionality is at risk, and do completely without the use of (costly) plugins.
Hard to hack:
Separation of frontend and backend, so that the risk of hacker attacks, which in the current times is more real than ever, is reduced to a minimum.
Case studies from our clients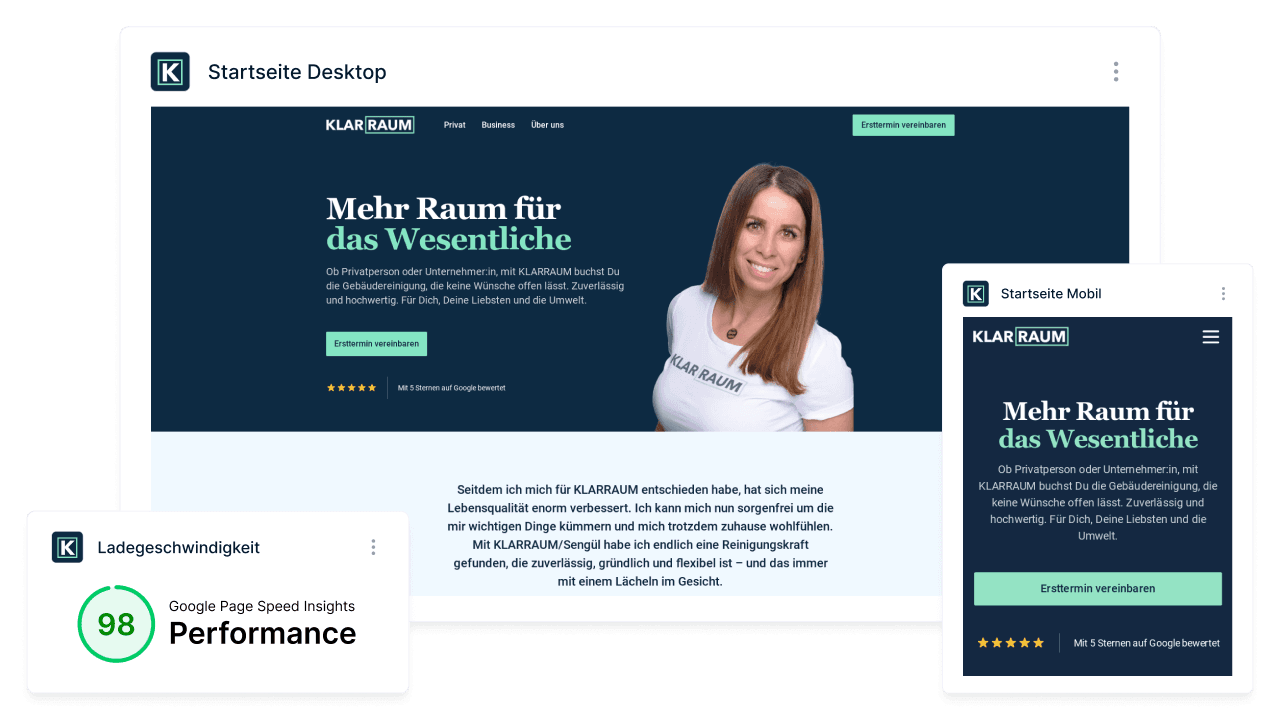 The new website was developed according to the headless approach. The content can be intuitively maintained via a modern headless CMS. At the same time, ultra-fast loading times were realized, which are a decisive ranking factor for Google & Co. The user interface (UI) was implemented according to the latest standards for intuitive use. In the process, the components were designed to be sales-optimized.
Lighthouse Performance Score

98%

from project start to launch

4 weeks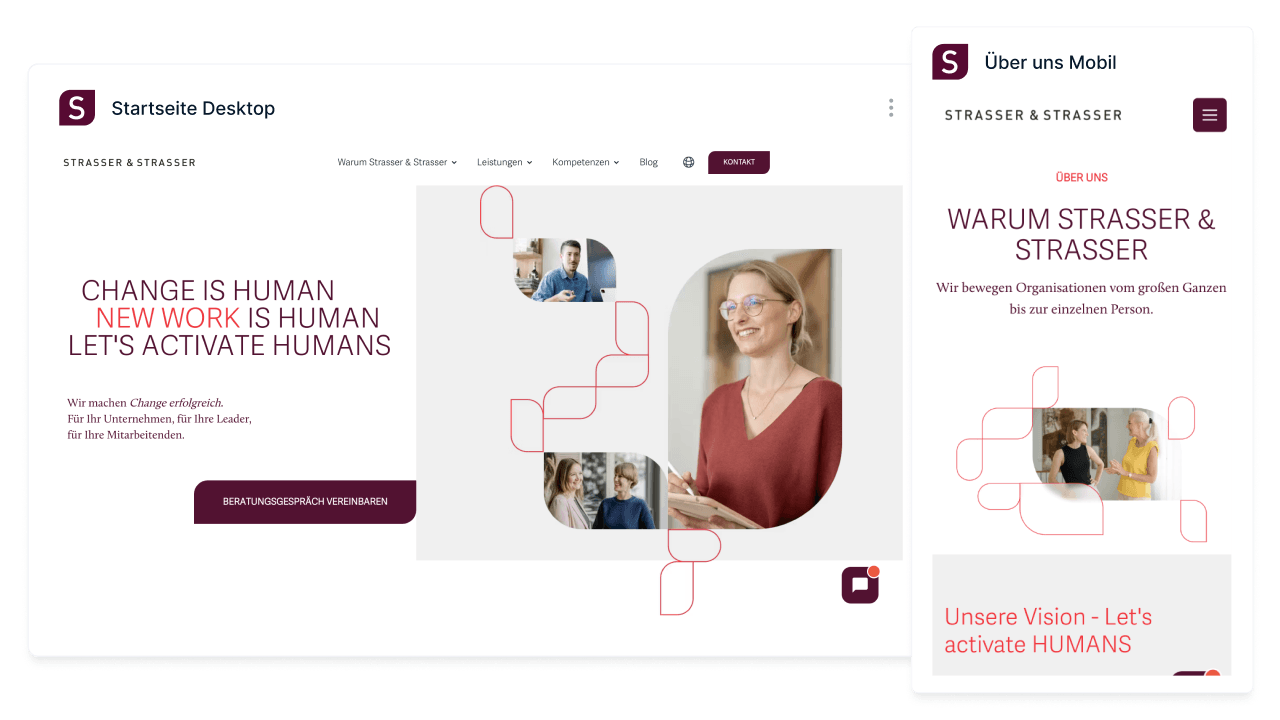 Based on the corporate identity (CI), the web design was implemented in the form of individual components that can be flexibly used on the individual pages via content management system (CMS) without programming. At the same time, new pages can be easily created, deleted or edited. The entire content was designed to be multilingual, so that the number of languages can be expanded indefinitely.
Lighthouse Performance Score

95%

from project start to launch

12 weeks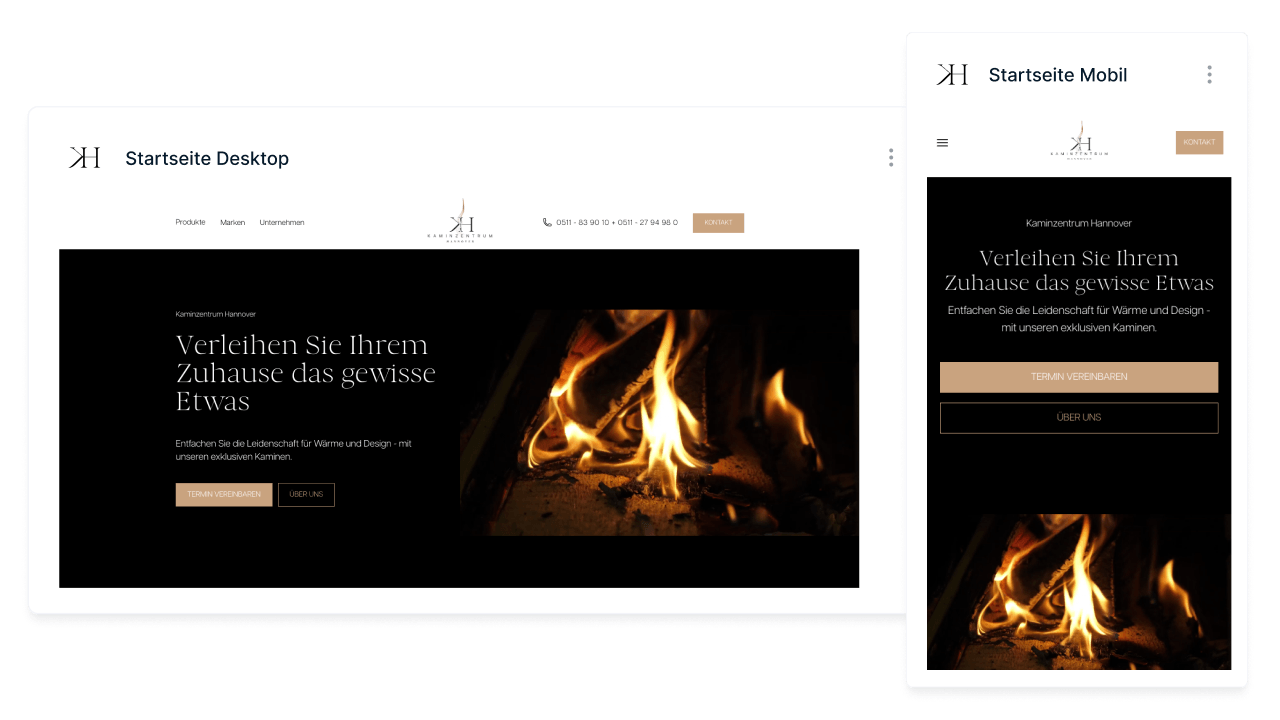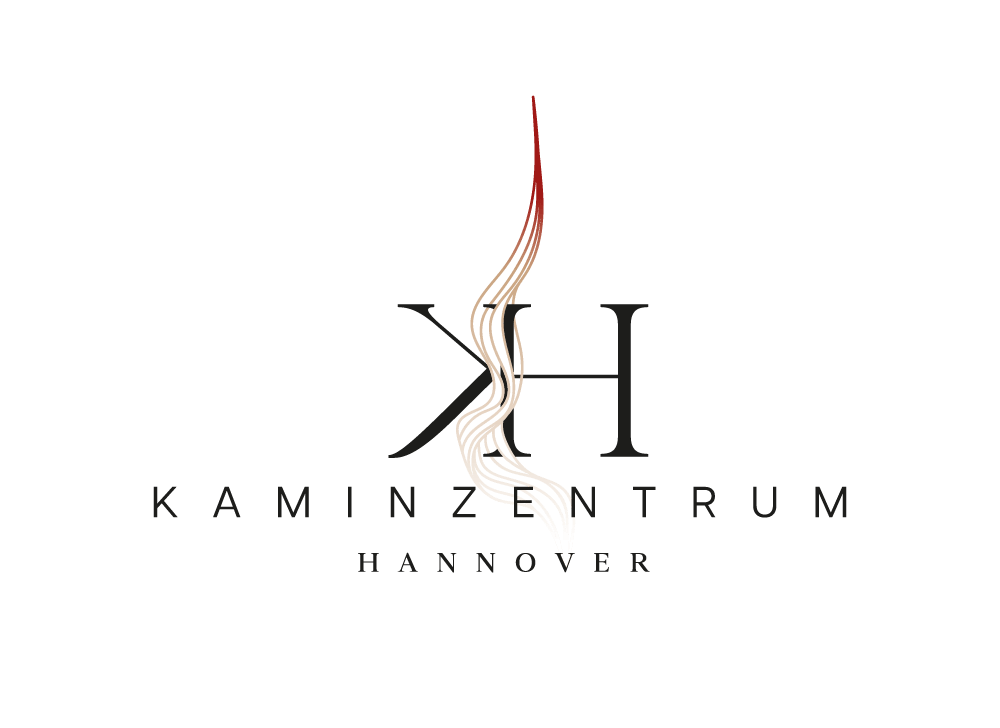 As part of a complete relaunch of the Kaminzentrum Hannover website, the latest headless technology was used. Employees can independently maintain all content (text, images, videos, links, etc.) in a modern, intuitive content management system. At the same time, any number of new pages can be created using a construction kit of ready-designed components.
more inquiries compared to old website

45%

from project start to launch

6 weeks
Selected testimonials
You are still unsure whether we are the right partner for you?
The following answers will help you decide if we are the right agency to implement your website project.
You will be better off with another agency if...
your website should be exclusively a business card and you have no interest in your website generating new customers.

you place special emphasis on an artistically designed website.

security from hacking is not so important to you for your website.

data protection compliance plays only a subordinate role for you.

you still want to rely on outdated but familiar systems, such as WordPress or Typo3.

you absolutely want to use animations that add little to no value and slow down your website.

you want to further optimize your existing website in small steps instead of massively accelerating your growth with a relaunch.

you think you can achieve similar results with a website builder, like Wix, Webflow or Jimdo, as you can with a custom programmed high performance website
We are the perfect partner when...
you want a website that is designed to sell and generate new customers on a predictable basis.

your website should be among the fastest on the market.

you want a clear website where your visitors can easily find their way around.

your website should be built according to sales psychology principles, so that it is ideal as a landing page for advertising campaigns.

you want to collect customer data on your own website and still be DSGVO compliant.

your website should be protected from hacker attacks in the best possible way.

you want to carry out a complete relaunch to be significantly more successful online than before.

you want your website to use modern, future-proof technology that is already established with the world's most successful corporations.
FAQ
How long does it take to have a website created?

The average implementation time for a website launch or relaunch is 4-8 weeks. Within this time frame, the conception, the technical implementation and the content creation incl. initial search engine optimization (SEA) take place. Special, individual requirements extend the project duration accordingly. The schedule will be discussed in detail during the initial meeting, so that a go-live date can be planned exactly.

What running costs should I expect?

The running costs for operating a modern high-performance website are relatively low and range between EUR 50 and EUR 100 per month. Included are mostly hosting, legal protection and a cookie consent tool. In addition, there are costs for the extension of functionalities or search engine optimization, if required. In the initial consultation, we will put together a package for you that is perfectly tailored to your needs.

Do I have to do a launch or relaunch or can I also have my existing website optimized?

We specialize in a specific technology to bring the technical capabilities of the most successful companies in the world to the small and medium enterprises (SMEs). This means that we basically do not work with outdated systems, such as WordPress or Typo3, nor do we use website building kits, such as Wix, Webflow or Jimdo. From experience, we are requested when a website is to be newly created (launch/relaunch), as this is the ideal time to switch to a more modern technology and change the agency partner.

At what size company should you have a high performance website created?

With our concept, we make it possible for small and medium-sized companies to use a technology that is otherwise only available to large companies. So it's not so much about the size of the company when it comes to the question of whether one should have an individually programmed high-performance website created, but much more about how ambitious a company is or what goals it has. If one is serious about their online marketing, of which the website is the centerpiece, they should move to a professional website that is scalable as soon as possible.
Have a website created that is a real growth engine for your business.